Alicia Vikander sex naked photos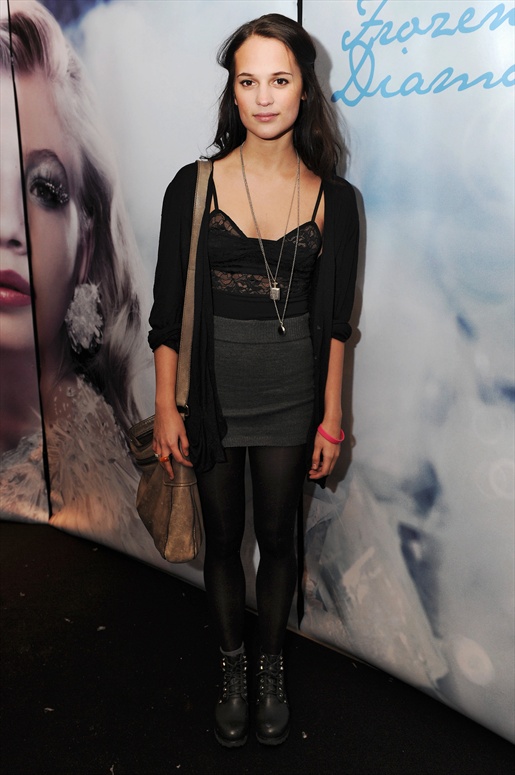 Alicia graces the cover of September issue of ELLE (US) magazine. We will add the scans and hopefully more outtakes as soon as they become available! But for now, you can read an excerpt from her interview and have a first look at her beautiful new photoshoot.
E!ONLINE – Say hello to ELLE's latest cover girl, Tulip Fever star Alicia Vikander.
Gracing the pages of the coveted September issue, the 28-year-old Academy Award winner models a series of looks by Bottega Veneta, Calvin Klein, Céline, J. Crew, Louis Vuitton and Nina Ricci. Though Vikander is famously tightlipped about her romance with Michael Fassbender, the actress—and the people who know her best—are outspoken about other facets of her life.
Here, E! News highlights five tidbits from the magazine's cover story:
1. She Got in Killer Shape for Tomb Raider
The actress spent 95 days shooting the movie reboot. "I love big popcorn movies. I've never done action scenes on this level—not even close. It feels like I'm back to dancing—the training, the intensity. You need to be aware of your movement up in the wires and how your body works," says Vikander, a trained ballerina. Due to the physical demands of the role, the 5-foot-5 actress spent a significant amount of time "bulking up quite a lot at first and then trying to just, like, tone down," the movie star says. "I've never been able to lift my own weight, and the day when you have that capacity, it's pretty empowering! And you get the endorphins afterward."
2. She's Ready for Motherhood
While discussing her role in the 2013 Swedish film Hotell, in which Vikander played a woman suffering from postpartum depression, the actress voluntarily reveals that she wants to start a family of her own. "I don't even have children, and it's the wonder of my world. I've always wanted kids. I've never been pregnant, but I hope to have a family one day," she tells editor Ben Dickinson. "It's both the expectation and knowing that it should be the greatest experience of my life—and suddenly from one day to another, it's a reality; it's a new chapter of your life."
3. She Almost Gave Up on Acting
After being rejected from drama school (twice!), Vikander was about to call it quits—that is, until she was cast in Pure. "It's so strange to say, but I knew that this was my one shot," she says of the 2010 movie. "It was such a layered role; I knew it would be my one chance to show what I could do." So, director Lisa Langseth took a chance on Vikander, then a virtual unknown. "As a director, the actor is like a material, and she could conform to anything I gave her to do," she says of the star, who was "never tired" on set. "She was completely open—and not scared."